Wee Sing The Big Rock Candy Mountains



Written by

Susan Hagen Nipp
Pamela Conn Beall

Directed by

Claudia Sloan

Released

May 14, 1991

Print

1991, 1995, 2004

Previous

Next
The sixth video of the Wee Sing series
Characters
Lisa – the main protagonist
The Good Fairy – the main antagonist
Plot
An imaginative young girl named
Lisa
waits until her stuffed animals,
Snoodle
and
Doodle
, come to life and they take her to a magical place called the Big Rock Candy Mountains when her friends,
Debbie
and
Eric
, don't want to do what she wants to. When they arrive there, the Meecy Mice arrive late because of their issues with Little Bunny Foo Foo, who keeps hitting them on the head, making the Good Fairy so mad at him. How will they ever find out?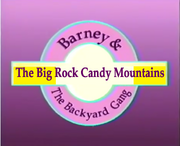 Songs
The Big Rock Candy Mountains (reprise)
Cast
Lisa - Kelsey White
Snoodle - Sandra Dee Heidecke
Doodle - Susan Bonde
Profster - Karen Boettcher-Tate
Kaiso - Gregory Donovan
Felicity - Kate Kinhan
Little Bunny Foo Foo - Burl Ross
Green Meecy Mouse - Ellie Klein
Peach Meecy Mouse/Puppets (Voice) - Kathy Philpott
Yellow Meecy Mouse - Carol Steinel
Good Fairy - Jacqueline Dickey
Eric - Kevin Malstrom
Debbie - Jessica Lee Mallare
Lisa's Mom - Renee Davis
Puppets (voice) - Kate Finn