Wee Sing The Marvelous Musical Mansion



Written by

Susan Hagen Nipp
Pamela Conn Beall

Directed by

David Poulshock

Released

August 11, 1992

Print

1992, 1995, 2004

Previous

Next
The seventh video in the Wee Sing series
Plot
Three kids named
Alex
,
Kelly
, and
Benji
and their
Auntie Anabella
go visit their Great Uncle Rubato in his Marvelous Musical Mansion where the music boxes come to life, the hat rack sings and dances, and the door knocker requires you to solve a riddle before you enter. However, in the darkness of the night, several small but important items vanish, requiring the children to locate the thief. Each segment teaches the viewer about musical theory or terminology.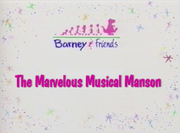 Songs
She'll Be Comin' Round the Mountain
How Do You Do?
My Hat, It Has Three Corners
The Orchestra Game Song
Tap-A-Cappella
The Ballerina's Waltz
The Doodle-Det Quintet
The Marching Song
Viva La Campagnie
The Melody Song
The Magic of Music
Hickory Dickory Dock
Round the Clock
Oh Where, Oh Where?
Clap Your Hands
Reuben and Rachel
Hey Diddle Diddle
Oh Where, Oh Where? (reprise)
The Magic of Music (reprise)
When the Saints Go Marching In
Cast
Great Uncle Rubato
Candeza the Cat
Tap-A-Capella Singers
Hat Rack
Doodle Det Quintet
Meter the Mouse
Door Knocker
Trivia
Alex, Kelly, and Benji were in the UK version of Wee Sing Boogie.